Hello all, Today I sharing Tandoori Chicken Egg Roll for Beginners, This recipe has been rising in popularly. It is simple and easy to cook in 45 minutes and serves 4 people.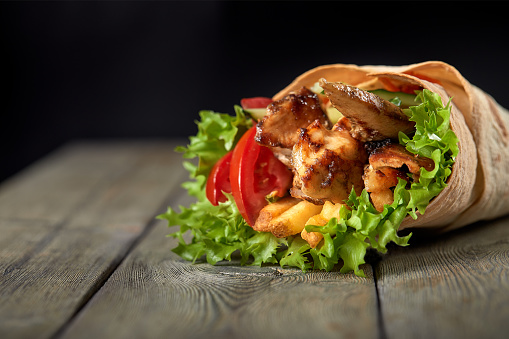 Tandoori Chicken filling Ingredients:
Chicken boneless 400 gm
Mustard oil 2 tbsp
 Red chilli powder 2 tbsp
 Hung Curd 2 tbsp
 Ginger garlic paste 2 tbsp
 Coriander powder 1 tbsp
 Jeera powder 1 tsp
 Amchur powder 1 tsp
 Black salt 1/2 tsp
 Black pepper a pinch
 Kasuri methi 1 tsp
 Garam masala 1 tsp
 Roasted besan 1 tbsp
 Salt to taste
 Oil 1 tbsp
 Live charcoal + ghee
 Butter 1 tbsp
 Green chilli 1 tsp (chopped)
 Onion 2 medium size (sliced)
 Capsicum 1 medium size (julienned)
 Cabbage ½ cup (shredded)
 Lemon juice 1 tsp
 Chaat masala ½ tsp
 Fresh cream 3 tbsp
 Fresh coriander 1 tbsp
Make incisions on the chicken breast
 In a mixing bowl, add the mustard oil and red chili powder, mix until the red colour bleeds out, add the powdered spices, hung curd, ginger garlic paste, roasted besan and salt to taste. Mix well all the ingredients and marinate the chicken for ½ hour.
Heat oil in a grill pan or any pan, cook the marinated chicken on both the sides for 4-5 minutes.
Cut the chicken slices diagonally and further pull the it with a fork.
Place a live charcoal in a bowl and pour ghee, cover and smoke for 3-4 minutes.
Heat butter in a pan, add green chili, onion, capsicum and cabbage. Sauté for 1-2 minute.
Add the chicken pull, lemon juice, chaat masala, fresh cream and freshly chopped coriander leaves, mix well and keep aside.
Egg paratha Ingredients
 Wheat flour 2 cups
Ajwain 1 tsp
Salt to taste
Eggs 2 nos.
Salt to taste
Pepper a pinch
Red chilly powder a pinch
Green chillies ½ tsp (chopped)
Method
In a mixing bowl add the flour, Ajwain and salt mix well and add water as required to knead a soft dough.
Apply oil on the surface of the dough to prevent from drying. Cover it with a damp cloth and rest it for 30 minutes.
Knead once again after resting and divide the dough the balls equally in small roundels.
Flatten the dough balls and dust it with dry flour, roll into thick chapati.
Apply some ghee on the surface, salt a pinch, Ajwain a pinch and dry flour a pinch, make a slit from the centre, start rolling from one side and make cone shape, press the cone shaped dough and flatten it. (refer video for better understanding).
Roll into a paratha using rolling pin. Cook the paratha on both the sides until crisp and golden brown. Apply some ghee and cook again on both the sides, set aside.
In a separate bowl break two eggs add salt & pepper, red chilli powder and green chillies, whisk well.
Heat oil in a pan and pour the egg mixture, place the cooked paratha over the omelette and cook on both the sides for 2-3 minutes
Assemble Ingredients:
Egg paratha as required
Mint chutney
Tandoori chicken filling
Freshly coriander leaves (chopped)
Chaat masala
Fresh cream
Method:
Spread the mint chutney over the egg paratha, place the chicken filling, sprinkle some freshly chopped coriander leaves, chaat masala, pour a dash of fresh cream, roll it and serve hot.